Concrete Frame

Scaffolding

Concrete frame structures are used extensively throughout the industry and now represent a very significant proportion of our work. Typically ranging upwards from 4 or 5 floors, we have provided scaffolding to many projects in excess of 20 storeys. All of these schemes require a bespoke design, and different working practices have to be implemented when working at this height. Our own policies and procedures are under constant scrutiny by our management team, and wherever possible we strive to improve and develop our methods to ensure the safest possible working environment.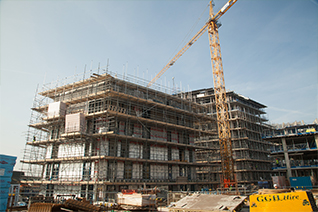 This type of work will often include Metsec steel framing and our solutions are entirely suitable for that system. We often provide staircase access in addition to hoists and the associated supporting scaffold. Cantilevered, multi level crane loading bays are usually required and the removal of leading edge risks is given a high priority.
If you have any questions or would like to find out more information about what we can offer you in London, Hemel Hempstead and throughout South East England, please get in touch and we'll be happy to help!
Would you like to get in touch? We're here to talk.
Call Head Office: 01442 877 566
Call London Depot