Building Refurbishment

Scaffolding

We understand that refurbishment jobs bring a completely different set of challenges to new build works. These projects are frequently carried out on occupied property and for this reason it is vital that the utmost care is taken to ensure the safety of residents, building users and members of the public whilst work is ongoing. Our work is carried out in a considerate manner, with access agreed by tenant or resident liaison officers to ensure that those who need to access the building can continue to do so safely.

Our experience of refurbishment projects extends to the recent regeneration of the Ocean Estate in Bow, East London. The project consisted of 52 tower blocks, and at the peak of the work, over 20 blocks were erected concurrently, meaning that organisation and efficiency had to be faultless in order to ensure the work was completed within agreed timescales.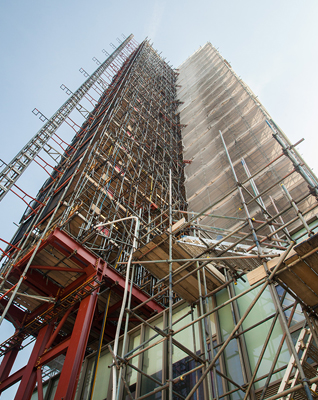 Refurbishment work can often require other services in addition to scaffolding, including the installation of CCTV, alarms and temporary lighting, or the temporary placement of satellite dishes and TV aerials to ensure the security of the site and maintain residents' services. All of these can be provided through our network of specialist supply chain partners and managed by Framework Specialist Works Ltd.
As with all projects throughout London, Hemel Hempstead and South East England, we work hard to ensure all materials are delivered in good time to ensure the fluidity of the project, and this in itself can be a challenge when on site storage can be extremely limited. Many refurbishment jobs will need to be serviced on a just in time basis and we are happy to facilitate this.
If you would like to know more about our approach to refurbishment work, get in touch with us today.
Would you like to get in touch? We're here to talk.
Call Head Office: 01442 877 566
Call London Depot