Scaffolding Design
The scaffold design sits at the core of any successful project. The design has to provide efficient access and egress at all stages of the build, for all trades to complete their works:
Ideally in accordance with the master programme, but also when inevitably things change
To suit prevailing site conditions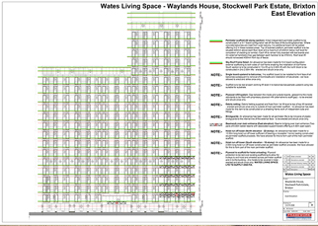 Clearly with the increased scope of TG20:13 much more scaffold is now included within the 'generic' designs to which it relates. However, we believe that design is much more than ensuring that the calculations work, and the scaffold will not technically fail.
Framework's approach to design is to consider every aspect of the access solution. This starts by defining a scope of works based on our clients programme, other trades integration and the proposed build sequence. We even consider the appearance of the scaffold and ensure that any of our clients' marketing and sales requirements are allowed for. We then produce a schematic design presented in a drawn format by superimposing indicative elevations and plans onto the architect's drawings. Once this schematic is agreed, and only then, will we pass the design to our structural engineers to define the extent of materials required to prove the design.
The completed design is then passed to our construction teams to ensure the product we deliver on site is strictly to our client's requirements.
Working throughout London, Hemel Hempstead and South East England, you can contact us for all your scaffolding requirements.
Why choose FRAMEWORK?
We will provide cost certainty on your project
At the earliest stage of your project we can present a comprehensive access solution
You will get a competitive price based on an efficient design
We will fully plan the implementation of all of your access requirements
Everything we do is managed and carried out by experienced, trained, and qualified professionals
Our approach to Health and Safety is industry leading
Would you like to get in touch? We're here to talk.
Call Head Office: 01442 877 566
Call London Depot