Resources
Yard Facilities
Our main, improved operational yard in Hemel Hempstead provides all our bulk storage requirements across its two acres, where we process, service and maintain the majority of our materials.
With our team of forklifts, dedicated drivers and yard workers we are able to process deliver and collect up to 150 tonnes of plant per day.
Our headquarters in Berkhamsted provides over 3,000 square feet of office space, in addition to workshops where our bespoke scaffold items are produced and further outside storage.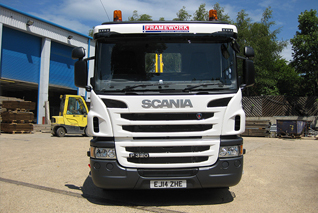 Labour
Our workforce has been growing since our inception, and we are proud to have a fantastic workforce of over 180 people, with over 90% of our staff directly employed. We pride ourselves on providing our staff with the best, most comprehensive training possible, helping our employees to gain expert knowledge and provide them with superb career development opportunities. A large number of staff, and all of our key personnel have been with the company in excess of 10 years, with many of them only working at Framework since leaving school. We have worked hard to develop staff from within, and some of our most senior people started their careers labouring on site.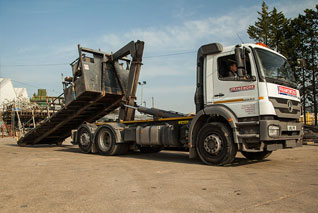 Plant
Our plant stock extends to over £8 million worth of equipment, and is all British Standard approved. We maintain quality on site by carrying out periodic inspections and maintenance of all plant each time it is returned from site. Everything is loaded at the yards by forklift and is banded for ease of handling at each part of the delivery process.
To identify our plant all equipment is security marked.
Transport
Having appropriate transport is vital to running an efficient service, and as such we operate a wide fleet of over 60 vehicles that are ideal for any situation. From Fiesta vans to 7.5 tonne, 18 tonne and 26 tonne rigid vehicles, 26 tonne hookloaders and articulated units and trailers we have the perfect vehicles to transport staff and materials to and from site. Our investment in 'roll on, roll off' hookloaders and beds allows us to have in excess of 20 beds in use at any one time. This method of transport is particularly efficient and allows optimum use of these vehicles. Since 2010 we have been steadily upgrading our fleet to newer, more efficient vehicles to both reduce our carbon footprint and ensure reliability. All of our vehicles are tracked in real time to allow our managers to accurately pinpoint the location of any given load 24 hours a day, seven days a week.
Why choose FRAMEWORK?
We will provide cost certainty on your project
At the earliest stage of your project we can present a comprehensive access solution
You will get a competitive price based on an efficient design
We will fully plan the implementation of all of your access requirements
Everything we do is managed and carried out by experienced, trained, and qualified professionals
Our approach to Health and Safety is industry leading
Would you like to get in touch? We're here to talk.
Call Head Office: 01442 877 566
Call London Depot