System Scaffolding
Our core product is tube and fitting scaffolding, but we also utilise a number of proprietary system scaffolding components to help us with particular access issues. We use Combisafe site access stairs extensively, and Layher staircases for public access applications. We have been manufacturing our own version of the recently approved NASC style loading bay gate since 1997 and use these on all of our sites.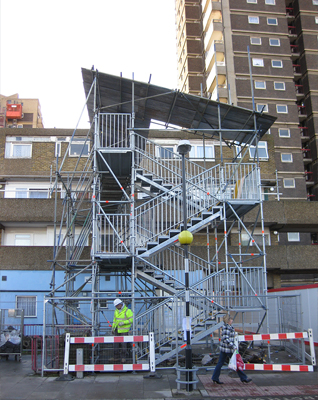 We carry large stocks of Heras fencing as this is widely used on our refurbishment projects. In conjunction with our normal tube and fitting installations, we have many proprietary products including extendable transoms, rubbish chutes, aluminium beams, ladder gates and hatches, ladder guards, and many more bespoke items.
Our in-house manufacturing process also includes an alternative to Scaffgap.
For more information about our scaffolding services in London, Hemel Hempstead and South East England, don't hesitate to contact us!
Would you like to get in touch? We're here to talk.
Call Head Office: 01442 877 566
Call London Depot