Tube & Fitting Scaffolding


throughout the South East

We believe that the flexibility offered by traditional tube and fitting scaffolding makes it a truly versatile solution. A significant proportion of the work we do is in complex, bespoke, new build multi storey construction, and our tube and fitting designs are implemented to integrate with every trade, and every construction detail. Adaptions can easily be introduced whilst maintaining the integrity and safety of the design. Our vast stock levels are routinely inspected and our quality control procedures ensure that any damaged equipment is quickly removed from our working stock and replaced or repaired.

Working from our depot in and Hemel Hempstead, we service the whole of London and throughout South East England. For more information about our tube and fitting scaffolding, or our other services, contact our friendly staff!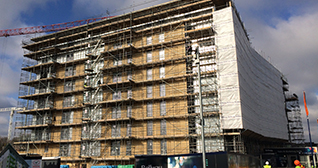 Why choose FRAMEWORK?
We will provide cost certainty on your project
At the earliest stage of your project we can present a comprehensive access solution
You will get a competitive price based on an efficient design
We will fully plan the implementation of all of your access requirements
Everything we do is managed and carried out by experienced, trained, and qualified professionals
Our approach to Health and Safety is industry leading
Would you like to get in touch? We're here to talk.
Call Head Office: 01442 877 566
Call London Depot